Louise Bourgeois
I Give Everything Away, 2010
etching and mixed media on paper, six panels
Cell I, 1991
Louise Bourgeois
Cell I, 1991
painted wood, fabric, metal, and glass
83 x 96 x 108 inches (211 x 244 x 274 cm)
Mahakala
Ground Mineral Pigment, Black Background on Cotton
1700 - 1799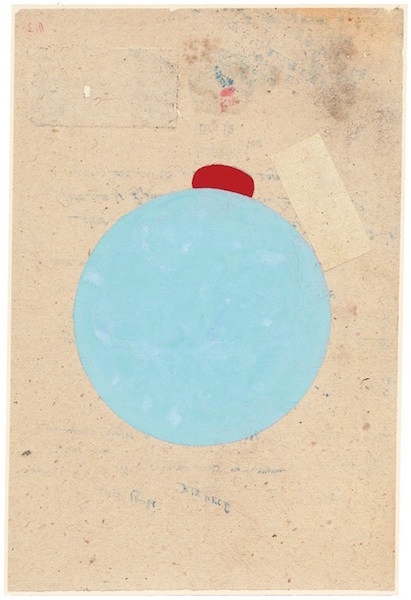 Tantric Painting of Rajasthan
Pigment on paper
17th century
Sumpremeist Painting
The Crazed Old Shaykh of Sanan
Shaykh Zadeh
Watercolor— 11" x 6"
15 c.
Snow Storm - Steam-Boat off a Harbour's Mouth,
Joseph Mallord William Turner, 1842,
Oil paint on canvas, 91 x 121 cm
Lucky Strike
Stuart Davis. 1921
Oil on canvas, 33 1/4 x 18" (84.5 x 45.7 cm).
Attic
Willem de Kooning 1949
Oil, enamel, and newspaper transfer on canvas
61 7/8" x 6' 9" (157.2 x 205.7 cm)
Screen Test 3 Edie Sedgwick
Andy Warhol
Film 4 minutes. 1965
Dog Star Man (Complete)
Stan Brakhage
Film. 78 minutes. 1961 to 1964
Laurie Anderson at The Nova Convention
Video of live performance. 1996
wonderful woman
Dara Birnbaum
Edited video of TV footage. 1978
Video 5.22 minutes
Pull My Daisy
Robert Frank
Film. 26.23 minutes. 1959
Daisy was adapted by Jack Kerouac from the third act of his play, Beat Generation; Kerouac also provided improvised narration. It starred poets Allen Ginsberg, Peter Orlovsky and Gregory Corso, artists Larry Rivers (Milo) and Alice Neel (bishop's mother), musician David Amram, actors Richard Bellamy (Bishop) and Delphine Seyrig (Milo's wife), dancer[1] Sally Gross (bishop's sister), and Pablo Frank, Robert Frank's then-young son.
Based on an incident in the life of Beat icon Neal Cassady and his wife, the painter Carolyn, the film tells the story of a railway brakeman whose wife invites a respected bishop over for dinner. However, the brakeman's bohemian friends crash the party, with comic results.
The Americans
Robert Frank
Video Images from the book The Americans published in 1958